Josh Taylor Pressure Washing of Chevy Chase, Washington DC and MD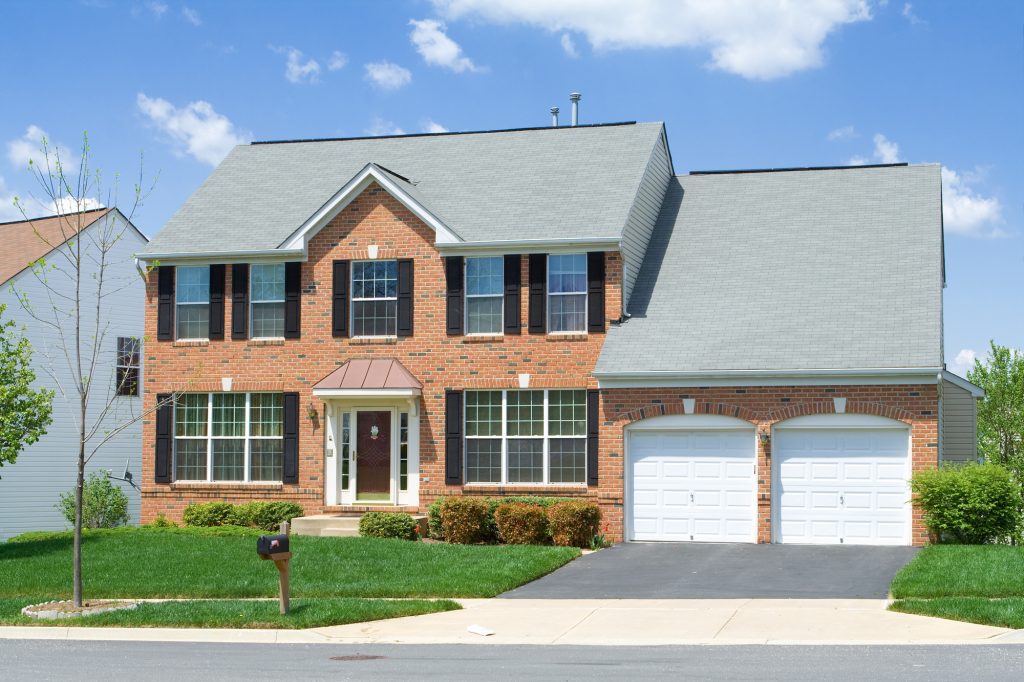 Here at Josh Taylor's Pressure Washing of Chevy Chase, we care about our customers and their homes. We take pride in the work we do here in Maryland and Washington DC. We provide exterior house washing, power washing, roof washing, gutter cleaning, window cleaning, and much more! Our services are of the highest quality. In fact, we're so sure that you'll love our work, we offer a 100% satisfaction guarantee! So if you own a home or business in Maryland or Washington DC, give us a call for RISK-FREE exterior house washing services!
With our experience, certifications, and on-going training, no one in the Maryland and DC area is more qualified to take excellent care of your home and property!
Pressure washing
Soft washing
Roof and gutter cleaning
Free Estimates
100% customer satisfaction
High quality, affordable services
PRESSURE WASHING vs. Soft Washing
As exterior house washing professionals in the Maryland and DC area, a question we're often asked is: "What's the best way to clean the exterior of my house?" Whether you're a new homeowner or you've owned your home for many years, you've probably thought about PRESSURE WASHING your house. But if you love your house and want it to have a healthy and long life, there's a much better and safer method! Soft Washing!
What's the difference between PRESSURE WASHING and soft washing? PRESSURE WASHING will definitely take off a lot of the dirt, grime, algae, and mold that collects on your house, but it may also take off the side of your house! This method uses water at such high pressures that it can damage your siding, strip off its finish, and even take chunks of it off altogether. If it's not done properly, PRESSURE WASHING can also damage your plants and landscaping, leaving behind a big unsightly mess.
PRESSURE WASHING isn't just dangerous for your house and yard, it can also be dangerous for your health! The high pressure used can easily cut through flesh and cause serious injuries. When misdirected, it can cause lacerations, bruises, punctures, and even eye injuries. Clearly, PRESSURE WASHING the right way requires knowledge, experience, and training.
Soft washing uses a safe and gentle amount of pressure to clean your home. But can such a gentle method clean thoroughly? Yes! Along with the lower pressure, it also uses specialized cleaners. These cleaners will remove the algae and mold that accumulates. These harsh outside elements aren't just an eyesore, they're also dangerous to your family's health and the health of your house. Soft washing will easily remove these hazards. But, unlike PRESSURE WASHING, it'll leave behind your siding and its protective finish, beautiful and undamaged.
At Josh Taylor Pressure Washing of Chevy Chase, we would never damage your house by PRESSURE WASHING your siding, leaving you and your family to deal with the aftermath. Instead, soft washing is the method we use because we care about your house. So if you're in the Maryland and DC area, let us help protect your home. Give us a call for the best exterior house washing your home has ever seen!
Services We Offer
Soft Washing
Pressure Washing
Gutter Cleaning
Roof Washing
Concrete Power Washing
Exterior House Washing
And more!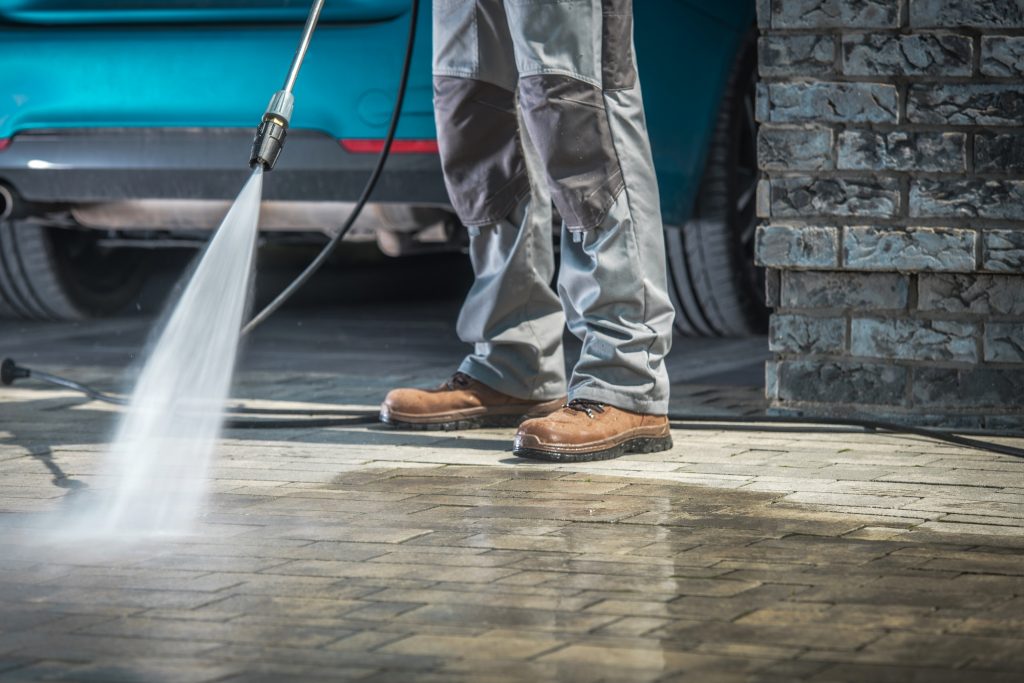 Soft Wash Roof Washing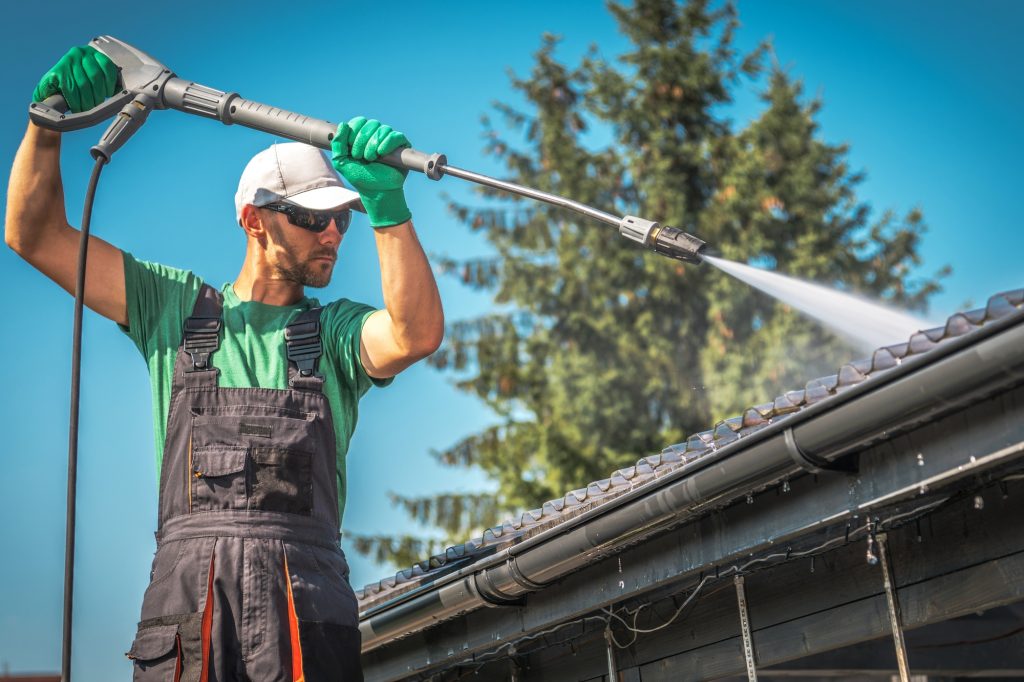 Does your Kensington home need a good roof washing? Are you starting to notice dark stains or discoloration on your roof? These stains aren't just ugly, they're damaging! Asphalt roof shingles are mostly made of fiberglass and limestone. Limestone is heavy and durable, but it's also FOOD FOR ALGAE AND MOLD. As algae and mold consume the limestone in your shingles, your roof will start leaking and your shingles will begin to weaken and deteriorate. Algae and mold, left untreated, will LITERALLY EAT AWAY AT THE LIFETIME YEARS LEFT ON YOUR ROOF!
What can you do? Roof washing is essential. Call Josh Taylor Pressure Washing of Chevy Chase Maryland! We protect your roof through regular soft wash roof washing. Why do we use a soft washing technique for roof washing instead of power washing? Soft washing is more than just a surface cleaning that removes stains. Soft washing incorporates a mix of algaecides, surfactants, bleach, and water. Unlike power washing, which only removes the stains, this solution can kill algae, mold, and bacteria from the roots up. Our roof washing provides a deep clean that won't leave lingering problems on your roof.
Another reason we'll choose soft washing over power washing for your roof cleaning is that it's much gentler on your shingles. Although it might be tempting to blast the ugly stains off your roof by power washing it, you'll probably blast the granules off your shingles too! Even if the damage doesn't seem noticeable at first, the wear on your roof will take years off its life. Your roof washing project will quickly become a roof replacement project. You probably know that REPLACING A ROOF IS A BIG AND EXPENSIVE JOB! Let us save you the hassle with our professional soft washing service!
Even if you don't have visible dark stains now, the best protection for your roof is preventative care. You don't want to wait until the damage has been done before you call in a good roof washing service! Josh Taylor Pressure Washing of Chevy Chase Maryland and Washington DC can provide a program of regular soft wash roof washing for your home. Soft washing your roof regularly will make sure algae and mold never get the chance to shorten the life of your roof! So if your North Bethesda home needs a good roof washing, give us a call!
Why Use Us For Your Exterior House Washing?
Who should you trust to provide a great exterior house washing service for your home in DC or Chevy Chase, Maryland? Josh Taylor Pressure Washing of Chevy Chase has the qualifications to care for your home properly and provide the best exterior house washing service for you.
UAMCC Certification – UAMCC stands for the United Association of Mobile Contract Cleaners. As a certified member of this organization, Josh Taylor Pressure Washing of Chevy Chase is committed to providing high-quality work and professional customer service.
PWNA Certification – PWNA stands for Power Washers of North America. Certified PWNA contractors like Josh Taylor Pressure Washing of Chevy Chase Maryland and DC are careful to comply with all power washing industry standards. The PWNA ensures that we're trained in the proper art of home care. And we're always up-to-date on the safest and best ways to do our job.
How does the high-quality training and education we've received benefit you and your Hyattsville home?
The Devil's in the Details
Your Maryland or DC home deserves only the best exterior house washing! Some homeowners think they're getting a great deal by hiring the cheapest exterior house washing company available. But, because they lack the proper training, their work is rough, unpolished, and even damaging to your home!
These exterior house washing companies often don't take the proper measures to protect your plants, which ends up destroying your landscaping. A good exterior house washing service like Josh Taylor Pressure Washing of Chevy Chase will take steps to protect your plants from splash-back. We do this by spraying the plants down, giving them a coating of water as protection against chemical burns. We also use tarps for an extra layer of protection.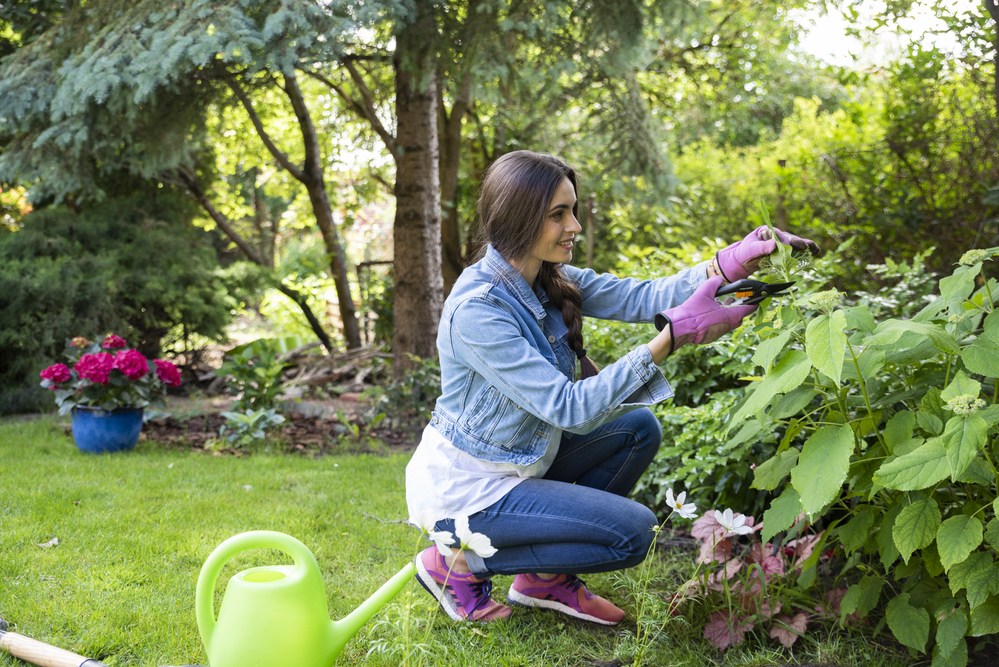 At Josh Taylor Pressure Washing of DC and Maryland, we believe that protecting your property is an important part of our job. We take every precaution to protect your plants because we know you've worked hard on your landscaping. We want you to be able to come home to a beautiful house and garden. So if you own a home in Chevy Chase MD, we're here for you.
An even bigger problem with these inexperienced companies is that they don't know when to use a soft washing technique instead of power washing. A company like that could end up power washing the algae and mold off your roof! That's the worst kind of roof washing. It would damage and weaken your shingles, significantly shortening the life of your roof. An exterior house washing company like that does more harm than good!
At the end of the day, you'd have a low-quality exterior house washing and a lot of expensive and time-consuming repairs to do on your home. To avoid such terrible results, choose certified and trained professionals like Josh Taylor Pressure Washing of DC and Maryland for your exterior house washing needs. We provide high-quality work and take excellent care of your home every time!
Window Cleaning
Why should you higher a professional service like Josh Taylor Pressure Washing of Chevy Chase for your window cleaning needs? Your interior windows collect all sorts of things like dust, water spots smudges, and (if you have little ones) even handprints. Though you may want to clean them yourself, household cleaners can leave behind streaks and smudges of their own. Plus, some of your windows are behind heavy furniture or in other hard-to-reach places.
Josh Taylor Pressure Washing of Maryland and DC has window cleaning solutions and techniques that will leave your windows shining and COMPLETELY STREAK FREE! Plus, we use drop cloths, booties, and other protective measures to take of your home and furniture. We'll never leave a mess behind for you to clean up!
Interior Versus Exterior Window Cleaning
But what about exterior window cleaning of your Maryland or DC home? Don't worry! The professionals at Josh Taylor Pressure Washing of Chevy Chase know how to provide high-quality exterior window cleaning too!
Exterior window cleaning is a different skillset from indoor window cleaning. Your outside windows are exposed to much harsher elements. Everything from changing weather conditions, algae, mold, and even car engine smoke affect your windows! This can cause scratches and even pitting in the glass. If it's not cared for quickly, you'll have to repair or replace your windows.
What technique will we use for your exterior window cleaning? As you might have guessed, windows aren't meant for power washing. Power washing can damage glass and even destroy your window screens. Instead we use a gentle, soft washing method. This gets your windows clean and shiny, without risking any damage to your home.
Have you tried exterior window washing for your own home? If you have, you probably know that it's challenging and, at times, even dangerous! Because of the harsher elements, exterior window washing often requires stronger, professional-grade window washing solutions. If you try using regular household cleaners, you might find that they don't have the power to cut through the gunk that collects on your windows. To reach second story windows or higher means being up on a ladder. You may feel comfortable using a ladder, but climbing one with all the necessary tools and equipment for exterior window cleaning can be tricky. To protect yourself from injury and to avoid the frustration of ineffective window cleaning solutions, call Josh Taylor Pressure Washing of Maryland and DC.
At Josh Taylor Pressure Washing of Chevy Chase, we work to give your windows their longest possible lifespan. So if you want to take good care of your Maryland or DC home while saving your time and hard-earned money from needless repairs, give us a call!
Gutter Cleaning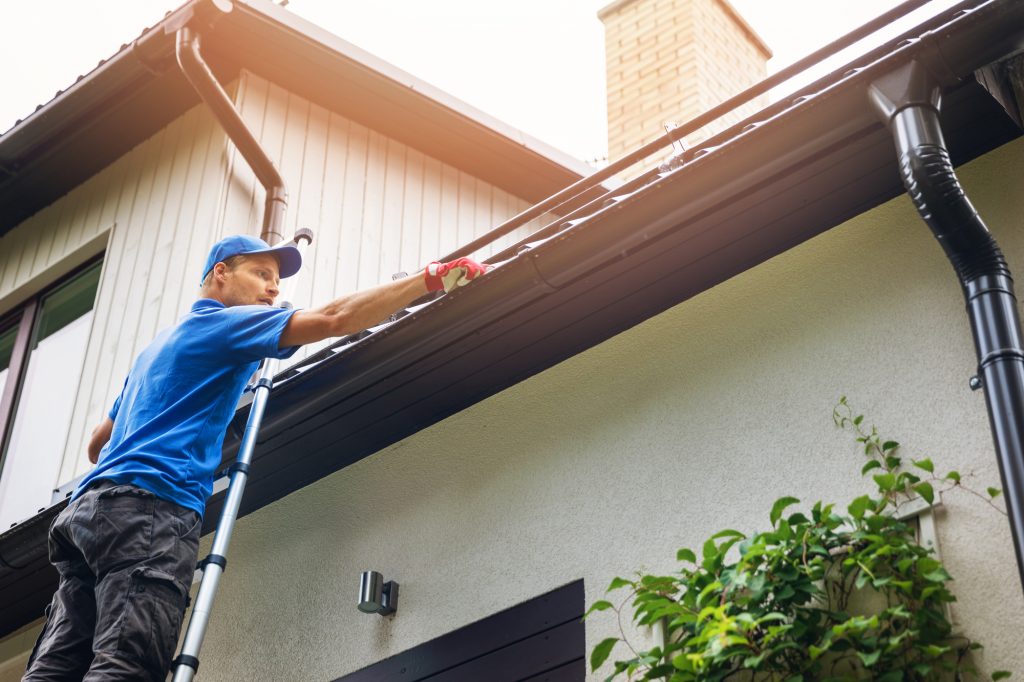 Have you ever tried cleaning your own gutters? As a homeowner in the DC or Maryland area, gutter cleaning is probably not your favorite way to spend your time. So why clean your gutters at all?
What do your gutters do? They're designed to carry water from your roof away from your foundation and house. Regular gutter cleaning can protect your home from water damage. How? If your gutters are all clogged up with debris, algae, and mold, the water will overflow onto the foundation and possibly into the basement of your house. Repairing your foundation is no small project! It can cost as much as a car! Not to mention, you'll likely start to have mold issues inside your home, putting the health of your family at risk. Clogged gutters also make a good home for unwanted pests. Clearly, gutter cleaning is an important and valuable part of caring for your Maryland or DC home.
Josh Taylor Pressure Washing of Chevy Chase provides an excellent gutter cleaning service that can prevent damage to your home and expensive repairs down the road. Not to mention, you don't have to deal with the unpleasantness of gutter cleaning yourself! We're happy to do it for you.
Areas Near Chevy Chase MD and DC That We Service
---
Chevy Chase
Silver Spring
Huntington Terrace
Kensington
Garrett Park
North Bethesda
Kemp Mill
Washington DC
Hyattsville
If you live near Washington DC or Chevy Chase MD and don't see your town listed here, give us a call to see if we provide exterior house washing services in your area!